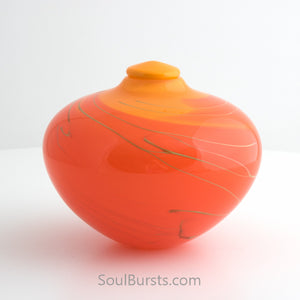 Summertime, California poppies and sunshine are all captured in this stunning orange  glass urn for ashes. It was blown on a brilliant sunny day while looking out at my flower garden. 
To view all sides of this Soulbursts Orange Glass Urn, please watch below video.
Measurements: 7 inches tall x 8.25 inches wide 
Color: Orange
Volume Capacity: Will hold up to 202 cubic inches of cremation ash
Note: If your loved one weighed 202 pounds or less in a healthy state, this urn will accommodate their ashes.