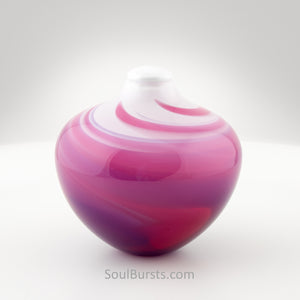 This delicate pink glass urn for ashes is inspired by my blooming rose garden and the calming aromas encountered among the flowers. It makes the perfect resting place for a loved one. 
To view all sides of this pink glass urn, please watch below video.
Measurements: 7.5 inches tall x8 inches wide
Colors: Pink, White
Volume Capacity: This urn will hold 173 cubic inches of cremation ashes / 12 cups.
Note: If your loved one weighed 173 lbs. or less this urn will accommodate the ashes of your loved one.