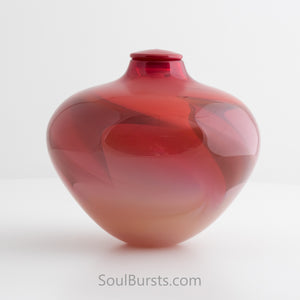 While visiting a festival honoring the canoes and people of the Pacific Northwest coast, I noticed many of the canoes were red inside. Red is considered a sacred color by many peoples. It can represent life, love, energy, passion and strength. It seemed a perfect color to cradle and shelter a loved one. 
To view all sides of this stunning Red Glass Urn, please watch below video.
Measurements: 9 inches tall x 9 inches wide
Volume Capacity: holds 274 cubic inches of cremation ash or 19 cups

Color: Red
Note: If your loved one weighed 274 lbs or less in a healthy state, this urn will accommodate their ashes. This is a large urn and may hold 2 loved ones ashes.